The transportation sector accounts for the largest share of CO2 emissions, representing 27% of total emissions!
Electric vehicles such as battery electric vehicles (BEVs) and fuel cell electric vehicles (FCEVs) will play a key role in the development of a zero-emissions mobility sector.
The benefit of FCEVs is that they provide drivers with the same driving experience as vehicles with internal combustion engines (ICEs), with a comparable filling time and range. They are also a solution for the lack of charging points that is expected to affect BEVs more and more in the cities of the future, and they are able to provide the ranges that are realistically needed for heavy-duty vehicles (HDVs) and city buses.
The requisite hydrogen refueling infrastructure is currently being developed, and Cryostar aims to continue offering reliable and cost-effective solutions for hydrogen refueling stations (HRSs) as we move forward.
Did you know?

Some refueling stations previously designed to use H2 gases are already being retrofitted for LH2 use due to their rapid increase in daily refueling needs! A cryo tank, a LH2 cryopump, and an ambient vaporizer are installed in place of the gas storage units.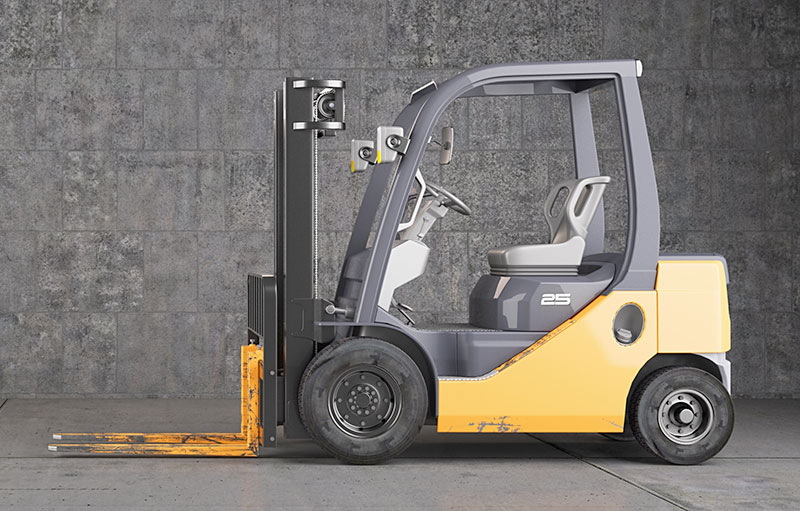 FC MHV refueling
Fuel cell material handling vehicles (MHVs) are the best solution for logistic centers that require 24/7 operation and don't allow for long-lasting charging of batteries. A direct fill takes less than 3 minutes with our liquid hydrogen reciprocating pump.
Hundreds of Cryostar A-MRP40/55 LH2 pumps are already in operation in this sector.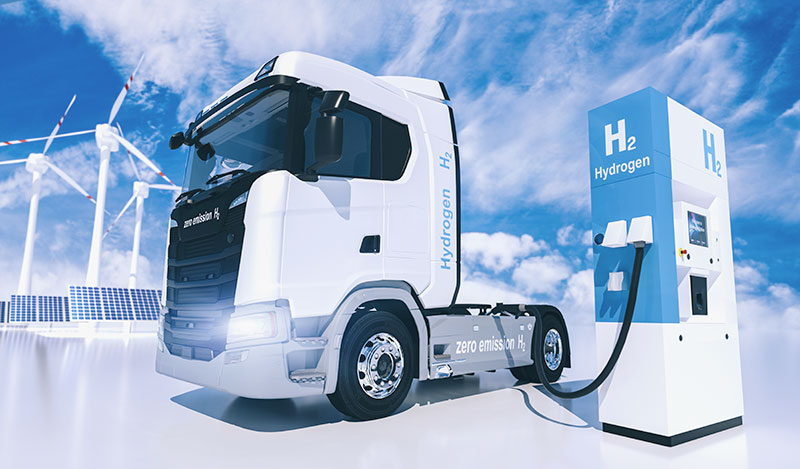 FC Truck refueling
Green or blue hydrogen is the most promising zero-emissions alternative for medium and heavy-duty vehicles. However, with high daily consumption and without onsite production, reliance on gas refueling stations will quickly become impractical and costly, and it will become more economical to have onsite LH2 storage.
With that in mind, we have developed a range of reliable, cost-effective 50Mpa LH2 cryo pumps, the A-MRP40/55 LH2 line, that allow for slow, normal, or even rapid refueling in accordance with the SAE J2601/2 Fueling Protocol for Gaseous Hydrogen Powered Heavy Duty Vehicles.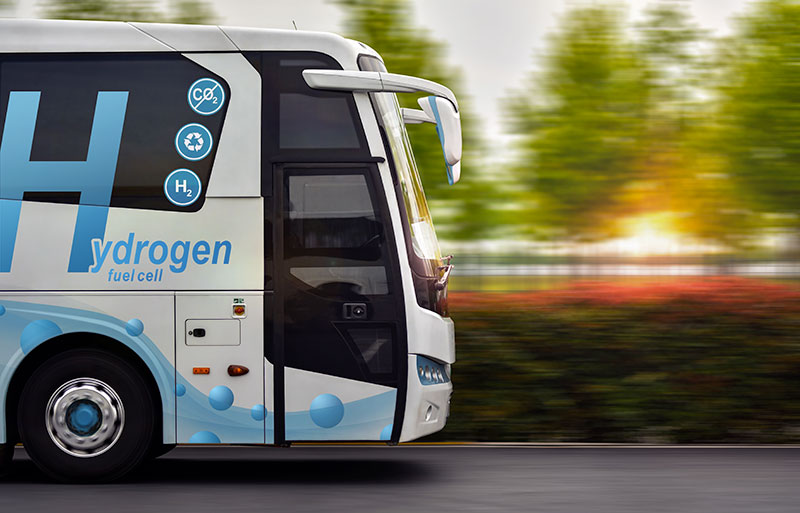 FC City Buses refueling
The decarbonization of public transport is vital for the cities of the future, and it will start with zero-emissions buses. When the daily range exceeds 200km, fuel cell buses are the best solution. Most FC buses are equipped with 35Mpa tanks with a capacity of up to 40 kg. Therefore, considering their daily consumption, the most economical solution for large bus fleets operator is to have an on-site liquid hydrogen storage at the bus depot.
Our range of reliable, cost-effective 50 MPa LH2 pumps, the A-MRP40/55 LH2 line, offers a significant reduction in the OPEX of HRSs for city buses, as they require only 0.4kwh/kg to compress LH2 from 0.2 to 45 MPa.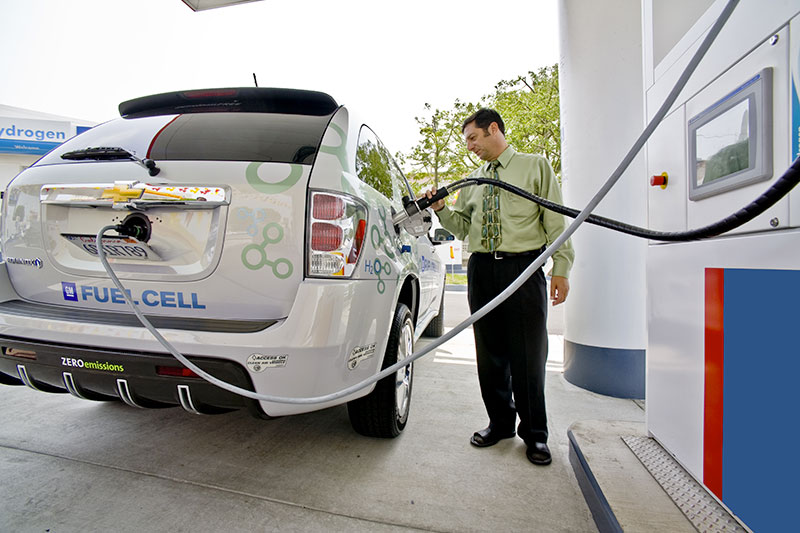 FC Passenger vehicle refueling
Passenger FCEVs will play an important role in decarbonizing the transport of the future as well. They are equipped with 70 MPa tanks with a capacity of up to 7 kg. They have already begun to be adopted in some parts of the world, such as California, where the average daily capacity of new stations has increased from 300 to 1200 kg/day in just 5 years' time. In addition, some HRSs have already converted their gas storage facilities to liquid storage facilities in order to cope with increasing daily demand.
Cryostar has opted for a hybrid compression approach, combining an A-MRP40/55 LH2 pump and a H2 booster compressor, which guarantees increased efficiency and, on average, 25% TCO reduction for HRSs.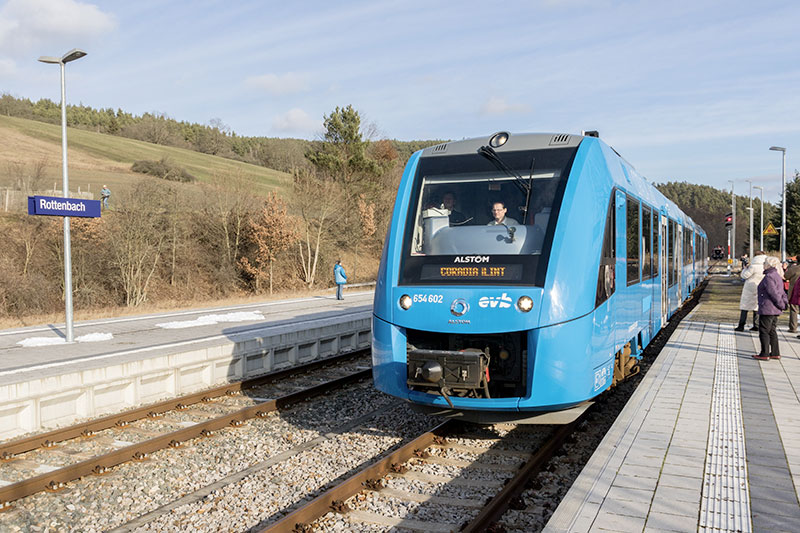 Hydrail refueling
Hydrogen-powered trains and trams are a clean alternative to the costly electrification of rail lines. With a tank capacity of up to 260 kg of H2 per train, any train operator with a fleet of 5 hydrogen trains and more should consider having either onsite H2 production, or an LH2 source at the train depot's fueling station.
When using LH2, the installation of one or more cost effective Cryostar A-MRP40/55 OL3 LH2 cryogenic pumps, with a capacity of 190 kg/h per pump could be an ideal solution.
CCH2 vehicle refueling
Cryo compressed hydrogen gas results in high densities and therefore the ability to store more energy per vehicle. For instance, a 300-bar cryo-compressed hydrogen (CCH2) tank would offer twice the autonomy of a 700-bar hydrogen tank of the same volume.
Cryo-compressed hydrogen could be the alternative energy source of the future for vehicles, and thanks to our expertise in LH2 cryopumps and the filling process, we are prepared to help you make that happen.